ABOUT HERENCIA GUADALUPANA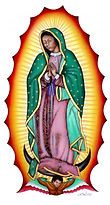 About us
"I am the Mother of God's only Son. I am the Mother of all."
~Virgen de Guadalupe at Tepeyac 1531
The virgin appeared in 1531 in San Juan Diego to bring hope to the indigenous people of Mexico. She brought a message that they had value and strength because they were children of God. Through her image, she proclaimed they must regain their face of wisdom and their heart of love. She brought a spirituality that stated that rooted in the love of God we could all be inclusive and strive for justice, embrace dignity and love mercy. Herencia Guadalupana Lab Schools will educate young children and families primarily from poverty homes with such a spirituality. With this spirituality, families in poverty will have the strength to support their efforts to overcome poverty.
EDUCATIONAL PHILOSOPHY
Our early childhood learning center strives in partnership with parents and community to nurture the God-given gifts of each student by…
​Providing a child-centered, loving environment where faith is infused into all preschool learning
Addressing the needs of the whole child in providing diverse approaches to learning
Using all strategies that are research-based, active, relevant and important to children
Scaffolding children's learning to challenge them to grow socially, emotionally, and intellectually
Valuing the basic skills as stepping-stones to real education where application, exploration, discovery and creating are vital
Having an individual approach to assess each child as a unique person
Instilling in our students the belief that all they are and will become is from God and is to be used to serve others and glorify God
Our Goals
Every two years establish a preschool in poverty areas of Tucson to send well-prepared students and families into neighborhood public schools.
​Establish referral, advocacy, and mentoring for families in poverty to access services to stabilize themselves socially, educationally, and economically as well as spiritually.
​Create pathways for potential early childhood teachers to obtain university degrees through internships to serve children and families in poverty in diverse public roles.

​
Our Vision
Families in poverty through embracing Guadalupana spirituality will obtain the dispositions, knowledge, and skills to overcome poverty and bridge the achievement gap.
Our Mission
Establish preschools, parent support, and teacher development in poverty neighborhoods to strengthen the spiritual, educational, and economic life of families.
Benefits of Enrolling Your Child in Our Preschool in Tucson, AZ
Enrolling a child in our lab preschool in Tucson can provide numerous benefits for both the child and the parents. Our early childhood education center has a research-based approach to learning, which allows children to learn through exploration and experimentation in a safe and supportive environment. This approach encourages children to develop a love of learning and helps them to develop important social and emotional skills, such as communication, cooperation, and empathy. Our Herencia Guadalupana Lab Schools organization also employs highly-trained and experienced teachers, who can provide individualized attention and support to each child. Additionally, parents of children enrolled in lab preschools often have the opportunity to be involved in their child's education, through parent-teacher conferences and other activities. Overall, enrolling a child in our preschool and afterschool programs can set them on a path toward academic success and personal growth, while also providing a positive and supportive community for both the child and the parents.